At oVice, we have members with many diverse backgrounds and experiences at oVice working towards achieving our mission.
We have a total of 150 employees globally, based in Japan, Korea, the U.S., Tunisia, Vietnam, and other countries.
In this interview, our Japanese PR team asked Mr. Young Soo Hwang, Global Team Leader, about the work environment, rewarding experiences, and goals.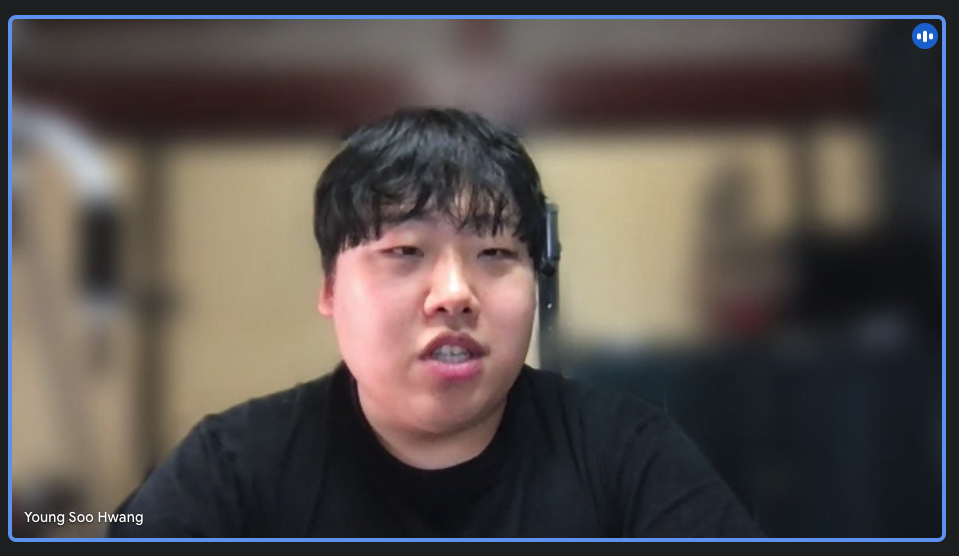 Young Soo Hwang Global Operations Manager Born in South Korea in 1995. After studying in Australia from primary school to university he graduated with a Bachelor of Science in Information Technology and moved to Japan to work in an IT startup called ITEA, Inc. He worked as a software engineer and built his way to project manager. He joined NIMARU TECHNOLOGY (currently oVice, Inc) in 2020 as project manager for the global side and now he is working as operations manager.
Started career as an engineer
What was your major in university?
I studied IT, especially engineering. Before I was working as an engineer, I was mainly working as a barista and swimming lifeguard in Australia. I used to teach sports as well.
After finishing my major, I went to Japan and started to work with Sae Hyung Jung(CEO of oVice, Inc.) at a technology consulting startup called ITEA, Inc as an engineer. Then I'm here at oVice, Inc.
Where have you lived before?
I was born in South Korea and I've lived in Australia, Tunisia and Japan. Now, I live in Ishikawa, Japan where the headquarter of oVice, Inc. is located.
Empathy with the culture, vision, and leadership are the reasons for joining oVice, Inc.
What makes you to join the company?
Because of culture, vision and leadership. I'm used to the company culture which is flexible and no hierarchy in Australia, but it is hard to find such companies in Asia.
I think oVice, Inc. has an open culture and Jung has great vision. I respect his leadership as well.
He has been a pioneer of everything that he does. For example, oVice is not only a remote work solution with the pandemic, but also a hybrid work solution beyond that.
When I saw oVice, I thought this service can lead to the world. Realizing the worldview that oVice aims for will also lead to the fulfillment of my own dream.
What is your main role at oVice?
My role is operation manager and I'm working with mainly the marketing, sales , CS and HR team. We have a very small team. My role is to set up the goal and timeline of the project. It's pretty similar to project management. I communicate with leaders to do campaigns and projects.
Have you experienced management roles before oVice?
When I was young, I experienced management roles in casual jobs or full-time jobs, but I haven't felt pressure like now. I think current role is most challenging so far.
How do you feel about working remotely at oVice?
I actually worked remotely without oVice before, just with slack, Zoom and so on. The difference is that with oVice you have a sense of connection with my colleagues.
With other tools, I just talked about work and it was hard to create a network and build good relationships with coworkers.
On oVice, I manage to create a great network with coworkers and clients as well. Communication wise is Incomparable.
in oVice to work from the airport
What the global team aims to achieve
What is the goal for your team?
On the CS side, the onboarding, conversion rate, and customer satisfaction are important measures. On the marketing side, it's more about creating awareness in the global market.
In the Sales team, we're trying to get leads from outbound.
The HR team is creating and maintaining a good team culture. Our main focus is to grow awareness in the global market and build a strong team to do this.
How do you make strategies to get awareness in different countries?
First we tried to do every success scenario like the Japanese market, but it failed because of cultural differences. So, we did a lot of testing of social marketing and advertising to figure out what could be the right approach. Now, we are getting moderate awareness in each country.
What is the state of the global work environment after the pandemic?
Japan and other countries are pretty similar. People going back to the office. However, the government is trying to promote working remotely. I'd say around 80% of companies go to the office and the rest of 20% of companies work from home.
But, the problem is that they still don't figure out the best tools to work remotely. Lot of people are still using only Zoom or Google meet. I believe that oVice can be a great solution and the global market has very big potential.
Rewarding and challenging moments
What do you find most rewarding about your current job?
When customers say things like "Thank you for creating such wonderful service", it's very rewarding.
Remote working is not easy for companies and most of them have troubles. Sometimes they lose their business or team because of lack of communication.
So, I'm glad when we fix the issue by using oVice and changing the companies' culture in a good way. I believe that oVice offers a better environment, collaboration opportunities and stronger team.
On top of that, traveling while working is also good motivation for me. If I stay in the same place, my productivity would go down. Traveling to different cities gives me new ideas and energy to work. Recently I just came back from Tunisia. I often travel to Onsen in Japan as well.
What is the hardest part of your current job?
I have multiple jobs and some of them like marketing or HR are new for me. I need to study to cover such an inexperienced field. It's rewarding but I feel pressure at the same time.
In a global team, we're reaching out to the whole nation and language is sometimes the biggest problem. Not everyone speaks English obviously.
The reality of the global work environment
Do you think oVice, Inc. is a global environment?
I'd say oVice, Inc. is definitely a global company. You can see our teams are everywhere in the organization chart. Everyone is collaborating very well. I've never met 90% of my colleagues, but I know most of them through oVice.
What do you think about communication between your global team and the Japanese team?
It's very tough because many of my team don't speak Japanese and most of the Japanese team don't speak English. So, usually we have leaders who speak both languages and we try to have regular meetings or catch up to make sure that we are communicating that both markets are heading in the same direction and goals.
How about communication in your global team?
Global team is small and it started recently. We don't have a fixed process like the Japanese team.
Communication isn't easy because our team is pretty international. Some people work in Africa, Europe, Canada, Australia, South Korea and so on. So, the time zone is the biggest issue.
Do you have any tips to work with people who have different cultural backgrounds?
Most important thing is to talk to them first. I have experienced a lot of culture, especially Australia which has mixed culture, so I'm familiar with different cultures.
My advice is to approach them first, be polite and be friendly.
I want to work with a self motivated person.
What kind of people would you like to work with?
My teammates are very hard working and very motivated.
In a startup everything is hard, you need to do multiple jobs and work longer hours. So, I want to work with a self motivated person.
I think friendliness is also important because we value communication.
How do you describe yourself?
I am ambitious to learn all business operations as much as possible. I am not the hardest and smartest person in the company but I value my communication skills and multitasking. I'm definitely motivated with oVice because I have the same vision and agree with future goals. I am really looking forward to how it grows.
What kind of work would you like to do in the future?
I would go back to CS and Engineering. I think both skills are very practical and creative.
You can influence many people as well.
I'd like to learn engineering from our great engineering team. If you have a laptop, you can create anything with your knowledge.